Is there a due date reminder functionality?
Kanban Tool's
due date reminder email
is a great way of staying on top of all your due tasks across multiple boards.
At a time chosen by yourself, you'll get an email notification of all your tasks due today (if an AM hour is chosen) or due on the next day (if a PM hour is selected).
The email will name due dates for tasks that were assigned to you or created by you and kept unassigned, so - by assumption - meant for you.
To manage your reminder email preferences, please go to
My Profile
, available under your name displayed in the top right corner of the dashboard view (all boards names). On the
Edit my details
page, choose the time of the email arrival and save changes.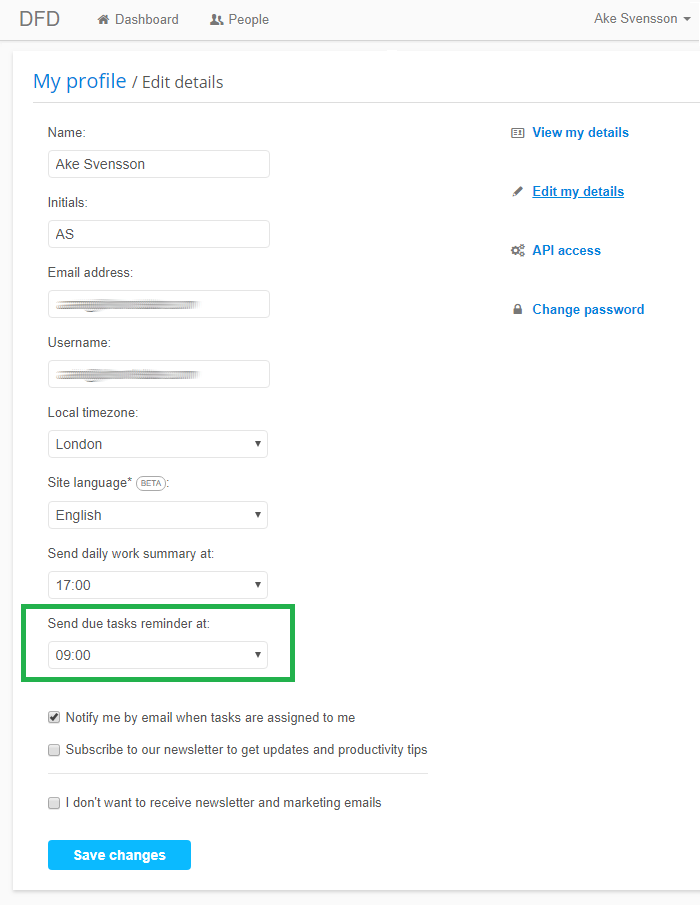 If you're not sure how to use due dates functionality with Kanban Tool, please
visit this page
.
Note:
If you don't want to receive these emails, simply select
"Never"
from the hour selection dropdown.
Kanban Tool
Enterprise
plan users can create own rules, for when due date notifications are emailed to them.
To create such an automation for your board, go to board
Settings - Process Automation
and type in the
conditions
for when emails should be sent.
Feel free to base it on the example below (click to view larger image):

For more examples of
automation rules
, please visit
this page
.