The Kanban method offers an easy way to keep a score of things waiting to be done, being done and of those completed. There is no doubt, that not having to constantly churn your to-do list in your heads is already of benefit to both your productivity and overall well-being. But what other ways of tracking your effectiveness at work does the method provide?
Let's start with the easiest way to track individual productivity within Kanban - and that is to simply review the Done column. If you're sharing the board with others, you may possibly want to filter it for tasks assigned to yourself. Easy.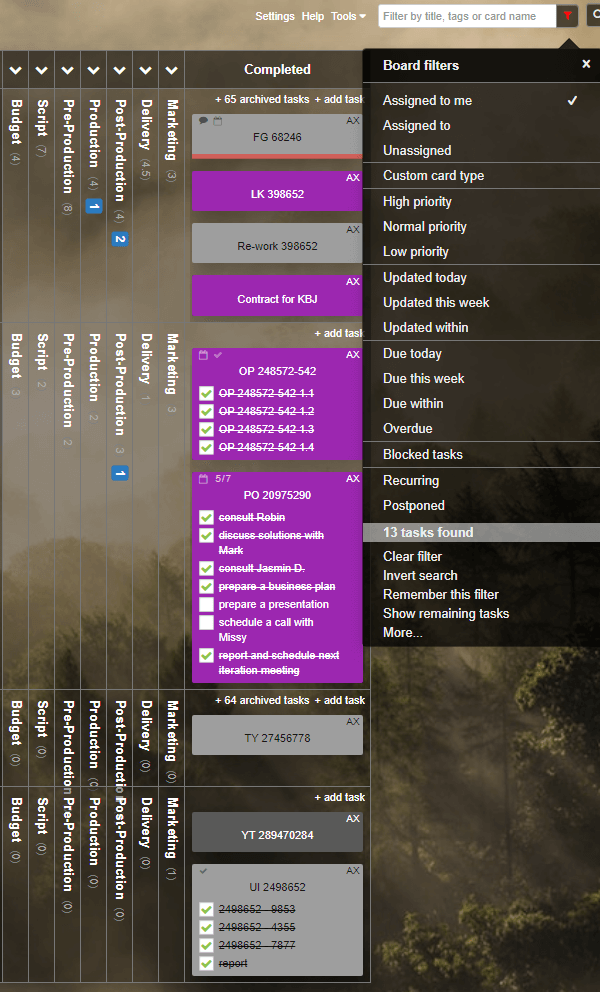 A more systematic approach to productivity tracking would, of course, base on a digital Kanban's automatically generated metrics, which build up as work is being done on a board. After all, that's one of the main reasons people turn to digital Kanban over physical office boards.
Where individual productivity is concerned, a Breakdown Chart and a Time Report will be of most immediate interest, with first showing current workload per task type, and the latter giving the amount of time worked on each of the tasks. You could also use Lead & Cycle Time to monitor average times each process steps takes.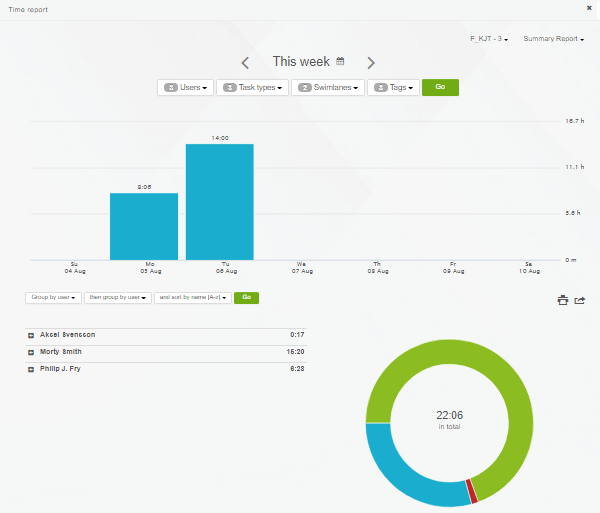 Furthermore, a lot could be read from the boards themselves, using their search and filter functionality - with it, you can locate tasks related to virtually any given parameter. In highly customisable digital Kanban apps, such as Kanban Tool, it will also be possible to generate own, fully custom notifications, and have them sent to specific users via a process automation utility. That way you can report on virtually any task action that is of particular interest to your productivity.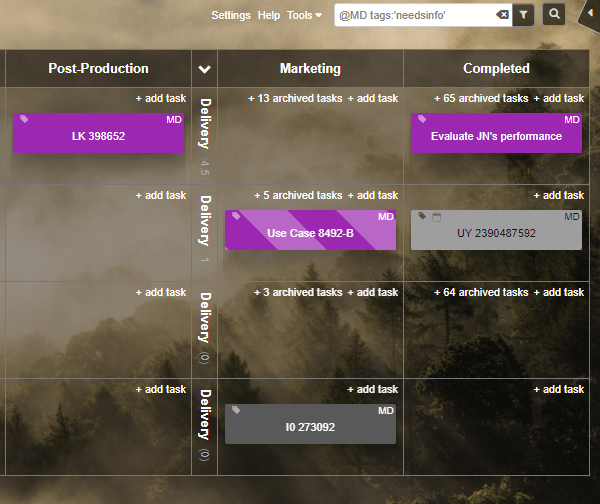 A multi-board Kanban will also likely be equipped with an auto-populated list of all one's tasks across all projects. Kanban Tool's My Work is designed specifically for individual productivity. All tasks assigned to you get listed here, and can be sorted, timed and worked on directly from it. This way, you can just start working, without first having to find all your assignments and devise a plan on where to begin.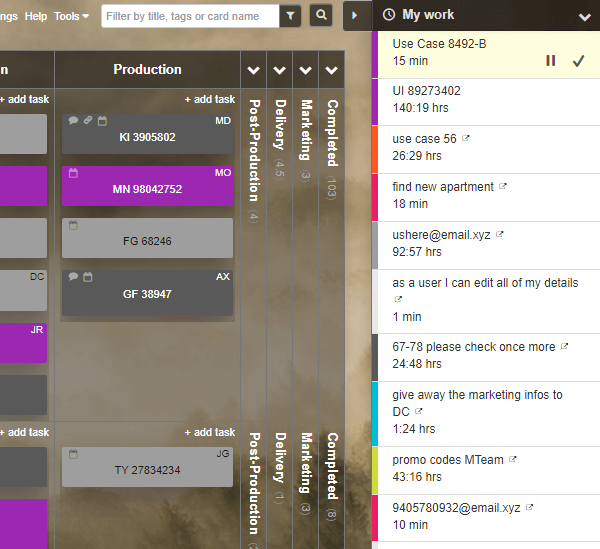 Lastly, you should have the possibility to review and update your work progress from a smartphone, wherever you are, via a mobile app. That's a specifically good point, if you spend some of your time in public commute spaces or in meetings that do not require your full attention - why not use that time for task status updates and your own work planning?
One of Kanban's biggest strengths is its sheer simplicity - anyone can use it, with no training at all. Try Kanban Tool for yourself to find out if your daily work can be made more effective.
Pinboard - quick access to files on your board
30 May 2019
Are you finding yourself frequently needing to open specific files or websites related to daily work? It is now possible to pin those d...
Pick a beautiful background for your board
16 Apr 2019
In order to make applying background images even easier, we've built a direct integration between Custom Theme Power-Up and Unsplash. You can brows...
Introducing Two-factor Authentication
11 Mar 2019
As part of our ongoing effort to ensure that your data is safe and secure, we're delighted to announce, that Kanban Tool users can now secure their...
Introducing Lite Theme
06 Feb 2019
If you're looking to give your board a truly minimalist look, be sure to check out the newly released Lite theme. It is selectable under Settings -...
Why we need to stop multi-tasking right now?
08 Jan 2019
It seems the days of us all trusting, that having the ability to multi-task is a skill needed at the office, are finally fading away into the r...
Kanban Metrics that Work
23 Oct 2018
Kanban, Scrum, Scrumban - however you're managing your team's workflow, you're going to want to know how well the method works, or how far off ...
Introducing Card Covers Power-Up
18 Oct 2018
Kanban Tool has always been focused on effective workflow visualization. Today, we bring you a Power-Up that takes visualization of work items to t...
How to make the best out of your online Kanban board?
09 Oct 2018
Aside from being accessible from any place and at any time, one of the best things about using an online Kanban board is the benefit of it being ...
How not to Fail an Agile Transformation?
26 Sep 2018
It's all too easy for teams to drop their Agile-related efforts after a little while since their initial training. Don't we all have a natural ...
Get started with Kanban Tool
Sign Up