What's an epic?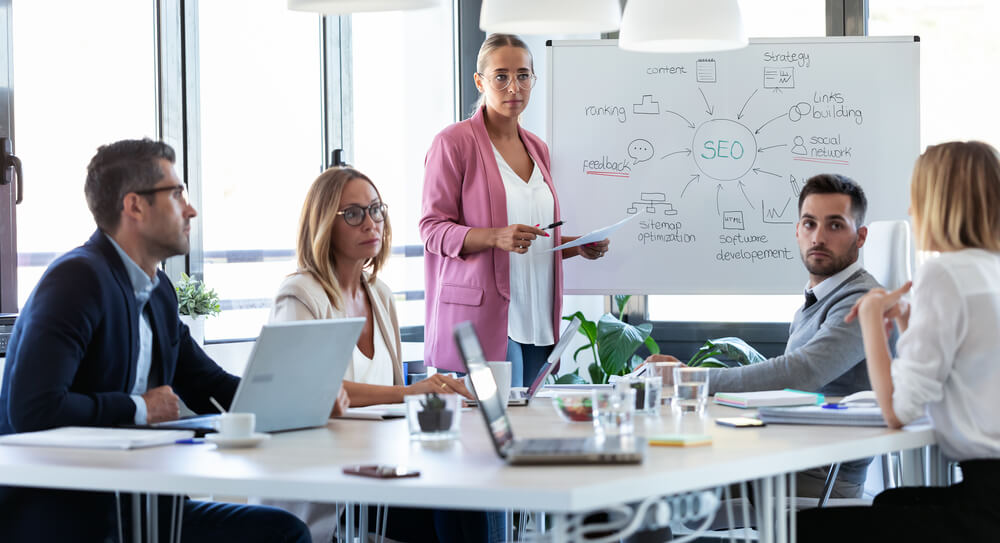 In Agile workflow management, the term epic can hold different meanings for various people and teams. Some see an epic as a general outline or sketch of a task. For others, it's a goal that breaks down into a series of small jobs. There will also be those people for whom each project with a set end goal is an epic. These differences stem from a lack of a uniform definition of the concept. Although there is nothing wrong with that, a team must share the term's understanding.
According to the various levels of an epic's definition, their examples could be:
The increase of a website viewers engagement - without a split into defined tasks, just an outline of an idea,
The design of a new website module, with a split into several steps - each being an individual user story or task,
The creation of a website for a new client, from concept to deployment on a server, so very much like a project.
Very often, epics make a part of a more general workflow structure. They often differentiate the steps on a product roadmap or a product backlog. Epics can also signal elements of an organization's larger years-long strategy, in which teams can define various developmental themes, hierarchically split into epics, and then user stories.
How to set an epic for success?
When defining your epic, it will help to know the following:
What is the goal, and exactly how will achieving it be measured?
The epic needs presenting in a way that is easy to grasp for the team and with goals possible to measure by its supervisors. For that reason, it's common to base epics on OKRs or time-framed strategies since they tend to come with recommended ways to report and analyze them anyway.
What are the core elements of the epic, or what steps does it contain?
Divide the epic into actionable, logically ordered steps and - when possible - suggest their completion times and the best people for each job.
Who will be involved in working on it?
Whether you assign epics to specific employees or not is your call, but you do need to know which team will be involved in them, and who, if anyone, will be in charge of their supervision, also who will perform the epic's assessment upon its completion.
What is the exact delivery date of the epic, and are there sub-delivery dates for each user story?
Depending on this, you will be able to plan out the work and better keep tabs on whether the work progresses as planned.
How to work epics into your Kanban Tool board?
A dedicated board for each epic It's the most straightforward approach, giving you complete control over who can access the epic.
Reporting: automated metrics - the Cumulative Flow chart, Lead & Cycle Time, Breakdown Charts, and Time Reports.
A designated swimlane for each epic Although not giving you the control of access to specific epics, it minimizes the amount of board switching needed to work on parts of several epics each day. It has the added benefit of showing the real-time progress across each epic from one place.
Reporting: automated metrics - the Lead & Cycle Time, Breakdown Charts, and Time Reports, all sortable by swimlane.
A different card type for each epic This one is a highly visual approach, letting you shuffle your work across a board, or several boards without losing track of which card belongs to which epic.
Reporting: automated metrics - the Cumulative Flow, Lead & Cycle Time, Breakdown Charts, and Time Reports, all sortable by card type. Real-time filtering by card color or using the Card Legend Power-Up can also make tracking easier.
A master card as an epic with dependent cards as stories For a strictly hierarchical view of en epic and its step tasks, Task Dependencies are the way to go. The master and the dependent tasks show a cue on what they belong to, and further nesting dependencies are also possible. With a neat little Dev Tools add-on, you can get a visual highlight on the tasks connections, provided that they are all on the same board. Reporting: inclusion of dependencies in standard task reporting does not apply for the time being.
It is also possible to create your reports and notifications about a given epic's tasks meeting specific requirements to match the analysis to your needs. You can learn more about Process Automation here.
What's the benefit of using epics?
A hierarchy of steps required to achieve a goal helps the team sustain focus on the epic's desired characteristics. It makes the job easier since people split the effort on smaller work chunks, rather than tacking a beast of a job with all its nuances requiring attention at one time. In other words, it increases your chances of success and simplifies the work planning by making the larger goals transparent for all the team members.
How does Kanban facilitate change?
30 Nov 2021
One of Kanban's biggest strengths and a core reason why teams choose to use it is its ability to manage change. The change in your process, in your team's goals and mindset. It helps to deal with change by keeping the process stable, sustainable, and service-oriented. These process traits can...
What characterizes an Agile leader?
05 Oct 2021
Agile work environments and processes center around self-organization and adaptation to fluctuating demands. Therefore a leader of an Agile project, or an Agile company department, should have the ability to let people make their own decisions and make them fast - right? Sometimes that can seem...
How to do Scrum in Kanban Tool?
02 Sep 2021
Would you consider it a conceptual travesty to use the Kanban Tool to manage a Scrum-based process flow? Well, our customers don't! Kanban Tool boards are widely open to personalization and can map out either of the frameworks with ease. Kanban vs. Scrum, in short A Scrum...
In Agile, following a plan is rarely better than listening to the client
20 Jul 2021
One of the core ideas put forward by the Agile Manifesto was for teams to welcome changing requirements from the customer, also when they're already well into the project's development. Arguably, it's one of the ways Agile gives teams a competitive advantage. More openness to what the...
Why is transparency key to project success?
22 Jun 2021
When working as a team, it can be challenging to arrive at a shared conclusion and an agreeable result, to put it mildly. And, where teams working on the more technical aspects can rely on a binary classification of the issue - something is either done right, or it's not, the groups that...
What tangible effects does using Kanban boards have?
30 Mar 2021
A typical storyline behind teams wanting to start using Kanban is that they received an incentive from the management to "get more Agile". And, let's be honest, this is not at all a bad reason to start! Chances are, that journey will not end there - but that one team using Kanban for their...
How to set achievable goals?
10 Feb 2021
Are you familiar with the dread that a seemingly unsurmountable task can cause? Some types of goals are impossible to estimate in time and effort, for instance, the path to changing a career or pivoting the entire premise of a business. Still, both of these things are happening every day, so...
Feedback Management with Kanban
18 Aug 2020
Progress happens when you find a solution to a problem, that removes the problem from happening again, right? A leading factor making this possible is taking note of both your colleagues' and your stakeholders' feedback. First and foremost, we're concerned with their comments on the matter of...
6 Remote Work Tips & Best Practices to Work From Home
18 Mar 2020
With the coronavirus spreading, remote team-working is becoming the recommended approach for all those businesses that can facilitate it. Take a moment to see how to do this well with your team. Find your spot and stick to regular working hours For many of us working from home can be...
Get started with Kanban Tool
Sign Up