Would you like to automatically assign cards to relevant team members, set due dates, and get notified about important events? We are happy to announce the preview release of "Automation Rules", which allows you to do that and much, much more.
To try it out, please go to the board's "Settings" > "Automation Rules" page: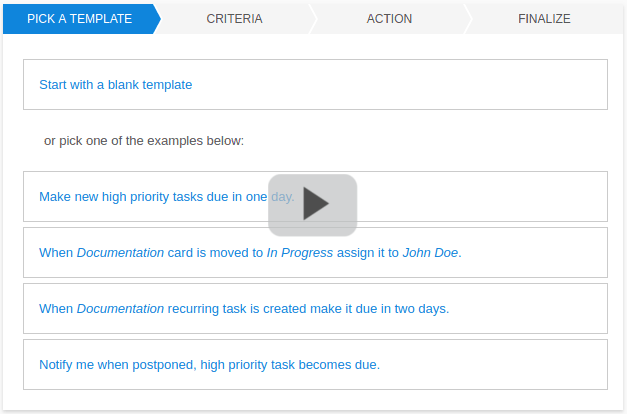 The preview release of Automation Rules is available on the Team and Enterprise plans. After the preview, Automation Rules will be limited to the Enterprise plan subscribers only.
On Minimalism, Kanban & Productivity
07 Aug 2018
We used to all want to get access to as wide a range of information, things and experiences as possible. For a while now, this has been changin...
Different Card Templates for Different Card Colors
30 Jul 2018
Happy to announce that it's now possible to assign specific card templates to different card types (colors). In this way, you can truly differentia...
Kanban Tool becomes an open platform
17 Jul 2018
We love working on new Kanban Tool features and then using them ourselves. With this update, we wanted to give you the capability to do the same ...
A Few Motivation Hacks We All Need
10 Jul 2018
Regardless of whether you love your job or if you just have to be doing it, there are days when you simply can't get into it, aren't there? Whe...
Updates to Terms of Service and Privacy Policy
24 May 2018
The General Data Protection Regulation (GDPR) imposes additional requirements for companies that collect or store personal data of European Union r...
Too Much on Your Plate? Try Kanban!
21 May 2018
If one look at your inbox and desk makes you feel overwhelmed - keep reading. Many people start their workday by opening email or replying to miss...
Tips for Impromptu Project Managers
14 Mar 2018
According to last year's Project Management Institute report by 2027, employers will need 87.7 million people working in project management-orient...
New Feature: Due Date Reminder
13 Feb 2018
Today we are happy to introduce a daily email reminder of your immediate due dates. It includes due-dated tasks assigned to you, as well as th...
Kanban Misconceptions and Myths
30 Jan 2018
"Kanban is not really a workflow method - it is a process improvement tool" It's often said that Kanban is a knowledge building tool, as oppos...
Get started with Kanban Tool
Sign Up