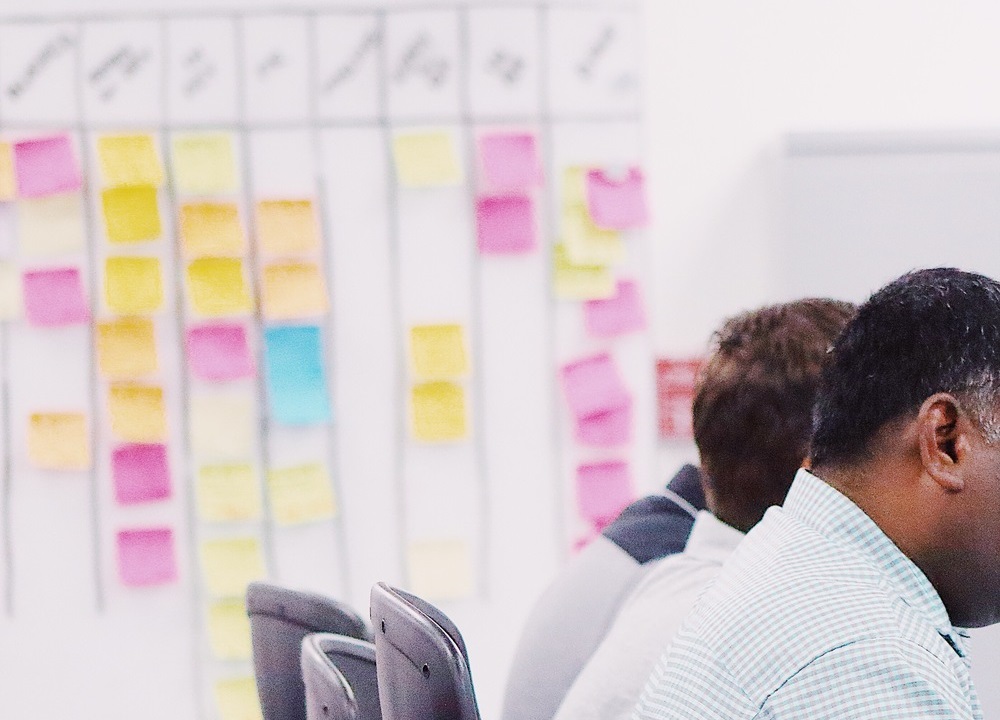 Would you consider it a conceptual travesty to use the Kanban Tool to manage a Scrum-based process flow? Well, our customers don't! Kanban Tool boards are widely open to personalization and can map out either of the frameworks with ease.
Kanban vs. Scrum, in short
A Scrum process:
bases on short iterations - Sprits,
typically involves an interdisciplinary, small team,
takes user stories as tasks - as small as possible actionable items,
may have a Work In Progress limit for the entire Sprint, or per work stage,
asks that your product is workable after each iteration.
Meanwhile, a Kanban workflow:
leaves the decision on the project length (if defined at all) to you,
doesn't prescribe team sizes, though suggests assigning tasks to team members,
supports both trivial and complex task scopes and sizes,
recommends limiting the amount of WIP in each "doing"-type stage,
assumes continuous progress of work within the flow but can accommodate milestones and timeframes.
How to create a Scrum board in kanbantool.com then?
Create a "User Stories" column on the leftmost side, before the Backlog/To Do lane. It will hold your pool of tasks for the current iteration. If you are already aware of stories that need to make it to the following iteration, consider creating another swimlane for it. Then place the story there, and collapse so that it doesn't attract attention yet. Lastly, customize the remaining column layout to the nature of your project.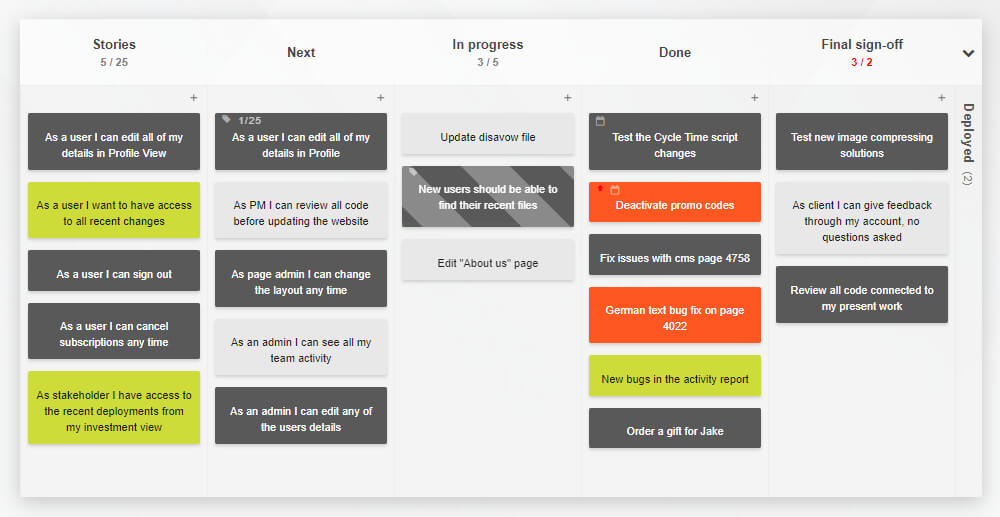 Decide on whether you want the tasks to be showing who is working on them. If you'd like that, enable the Auto-Assign Power-Up so that a story gets assigned to the team member who pulls it to a working-type column.
Persuade the team to check that each story is estimated to take no more than, e.g., 2 hours. You can be verifying this by demanding that each task/story gets a time estimate value. If the working time exceeds the estimated value, it will become noticeable on the board itself. You can also create a custom notification for when a task gets worked on longer than a set number of hours.
We recommend applying a WIP limit to every column. For example, 25 tasks as a complete single Sprint, so a WIP limit of 25 items for the User Stories stage. And another one, where the number of stories equals your number of team members per each "in progress" stage. You can limit by hours of estimated time too if more desirable.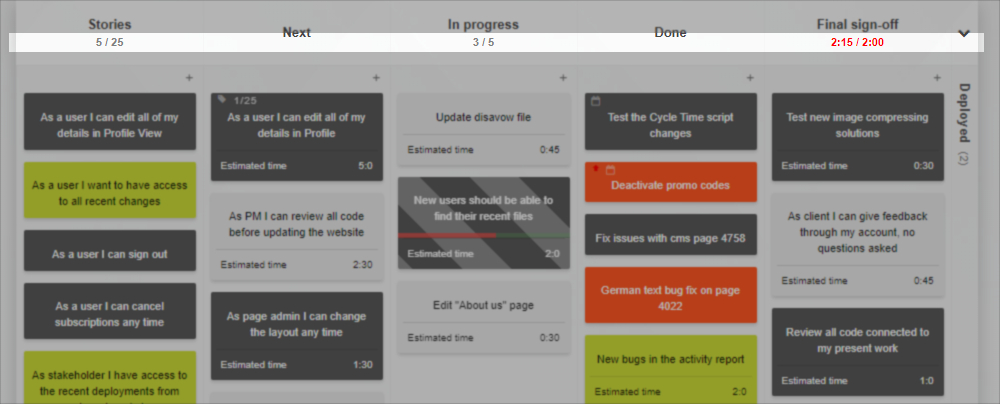 After every Sprint, you will have achieved a completion stage in the build of your product. Now, either archive the tasks or duplicate those that will need a rework during the next iteration. Then, move the copies back to User Stories to reuse all the information you gathered already.

A workflow like this will give you day-to-day Scrum flow support while letting you add some additional features to the board as and when needed. E.g., card covers for graphics projects, postponed tasks for procrastination-prone team members, and process automation for your manager. Why not use the best available Kanban software, even if Kanban is not your work mode when it has so much to offer to all frameworks? Don't get intimidated by Kanban Tool's method-specific name.
In Agile, following a plan is rarely better than listening to the client
20 Jul 2021
One of the core ideas put forward by the Agile Manifesto was for teams to welcome changing requirements from the customer, also when they're already well into the project's development. Arguably, it's one of the ways Agile gives teams a competitive advantage. More openness to what the...
Why is transparency key to project success?
22 Jun 2021
When working as a team, it can be challenging to arrive at a shared conclusion and an agreeable result, to put it mildly. And, where teams working on the more technical aspects can rely on a binary classification of the issue - something is either done right, or it's not, the groups that...
What tangible effects does using Kanban boards have?
30 Mar 2021
A typical storyline behind teams wanting to start using Kanban is that they received an incentive from the management to "get more Agile". And, let's be honest, this is not at all a bad reason to start! Chances are, that journey will not end there - but that one team using Kanban for their...
How to set achievable goals?
10 Feb 2021
Are you familiar with the dread that a seemingly unsurmountable task can cause? Some types of goals are impossible to estimate in time and effort, for instance, the path to changing a career or pivoting the entire premise of a business. Still, both of these things are happening every day, so...
Feedback Management with Kanban
18 Aug 2020
Progress happens when you find a solution to a problem, that removes the problem from happening again, right? A leading factor making this possible is taking note of both your colleagues' and your stakeholders' feedback. First and foremost, we're concerned with their comments on the matter of...
6 Remote Work Tips & Best Practices to Work From Home
18 Mar 2020
With the coronavirus spreading, remote team-working is becoming the recommended approach for all those businesses that can facilitate it. Take a moment to see how to do this well with your team. Find your spot and stick to regular working hours For many of us working from home can be...
Kanban Tool is 10! Well... 12 actually!
19 Dec 2019
We started working on Kanban Tool in the beginning of 2008. Later that year invitation-only alpha was released. While Kanban Tool public beta along with our website kanbantool.com was released in January 2009 making Kanban history. Kanban Tool is one of the very first services, that proposed...
Get Ahead of Work-related Stress!
27 Nov 2019
It is well established, common knowledge that stress increases the risk of all kinds of diseases, and greatly contributes to burnout. Have you taken any action against work stress affecting you? We'd like for you to at least consider the below strategies. Put effort into creating good work...
Overcoming team dysfunctions
15 Oct 2019
In managing day to day team activity, it can get difficult to keep tabs on how well a team is actually doing. Completed tasks count on the team's Kanban board may not tell the full story, seeing as quantity alone says nothing about quality. Analyzing how many have return from Done to Doing -...
Get started with Kanban Tool
Sign Up