With the coronavirus spreading, remote team-working is becoming the recommended approach for all those businesses that can facilitate it. Take a moment to see how to do this well with your team.
Find your spot and stick to regular working hours
For many of us working from home can be difficult due to numerous distractions and lack of association between our home with our job. Most people don't have a home office, and it's this group that will find the transition especially difficult. Make it easier for yourself, by designating one spot where you'll be working from every day. With time you'll learn to think of it as your workplace and will find it easier to concentrate on your tasks.
Don't fall into the trap of working flexible hours - sticking to your regular hours will help you to connect with others, and will be better for you. Try to keep the office - home divide alive despite the circumstances, otherwise you may quickly find yourself in total chaos. Still, just as with office working, do remember to take breaks!
Finally, don't work in your pyjamas. It will not help your brain to get into the workflow in any way.
Pick a collaboration platform that people will understand
Using a tool that everyone will find easy to follow is especially important if your team has no previous experience with online teamwork. Selecting a service that's easy to use will encourage them to jump in with both feet.
For example, Kanban Tool boards are designed to be self-explanatory and nonsense-free. Creating a board and inviting the team to join in, gives you a platform of communication that visually connects everybody and their tasks.
Agree on your shared process
Make sure the stages that your tasks go through are clear at a glance - a Kanban board makes this dead simple, since tasks are moving through columns. Each column is one step in your process, and optional swimlanes - horizontal rows - can be used to process a number of projects on one board. You can collapse those portions that you're not interested in, to have a neat, focused view.
Sometimes, teams like to use swimlanes to show work done by specific people - one swimlane per person - this can also be a good approach.
Let people find their assignments
The easiest approach to show who should get busy doing what, is to use dedicated task assignments - they make it easy for people to find their work, and for others to be able to see who oversees which item. The board should be possible to be filtered, to show tasks applicable to a specific person only.
You should also be able automate what types of tasks should get assigned to whom - in fact, if you're aware of patterns that the team follows, then multiple aspects of the flow should be programmable to get edited, assigned or moved on their own.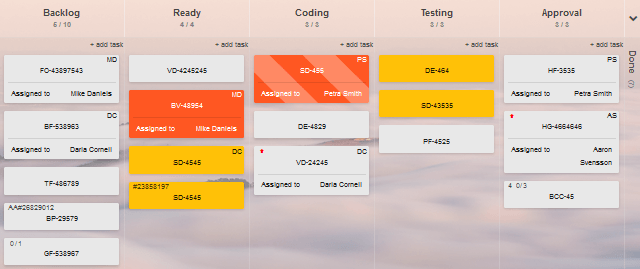 Pay attention to how you communicate with others
A Kanban board will also make it easy to address miscommunication. A good rule of thumb for remote collaboration - or any, for that matter! - is to never assume that others know what you know. So, state the demand of the work items as clearly as it's necessary for it to be done. You're in charge of what data fields your Kanban cards can hold - and there is room for anything you may need: due dates, attachments, checklists, estimates, difficulty, dependencies, votes, links etc.
When typing all requests and instructions, although it may take a little more time, we recommend keeping text friendly and courteous. People who don't see their colleagues all day for weeks on end, can easily start to feel objectified, and a little human touch in your communications will go a long way. Keep your personality in the messages, for everyone's sake.
Of course, your teammates will always have questions, so each task should have a dedicated spot for comments - where team members can ask questions, leave feedback, add extra files etc., and have this be directly associated with a specific work item. Imagine the time savings this allows for! Looking at the task a comment was made for, the context becomes obvious in no time.
What's more, a record of all that happens on the board is kept, should any guidance be needed later on, when processing similar tasks. While doing ongoing work, you are also making a knowledge base of sorts.
Recognize remote collaboration as an opportunity to improve flow!
Your team will get a better appreciation of the overall process that they're a part of, by seeing it on a single screen in front of them. Instead of perceiving their tasks as separate from everything else, they'll learn the context to which their work applies. This can often bring extra value to how people work, thanks to learning the angle at which others require their input.
Jobs placed in an online tool are also easier to connect with other tasks, to highlight how they relate to one another, which is great for both context and accurate processing.
Using a cloud-based Kanban board for remote teamwork can easily make it the one and only place that team members need to go to - for their updates, tasks, messages, files, calendar with due dates etc. Add to it Kanban's native Work In Progress limits support, letting people focus on the task at hand in full, rather than multi-task - and it may turn out, that the necessity of working from home will yield an unexpected benefit of higher team productivity!
Kanban Tool is 10! Well... 12 actually!
19 Dec 2019
We started working on Kanban Tool in the beginning of 2008. Later that year invitation-only alpha was released. While Kanban Tool public beta along with our website kanbantool.com was released in January 2009 making Kanban history. Kanban Tool is one of the very first services, that proposed...
Get Ahead of Work-related Stress!
27 Nov 2019
It is well established, common knowledge by now, that stress increases the risk of all kinds of diseases, and greatly contributes to burnout. Have you taken any action against work stress affecting you? We'd like for you to at least consider the below strategies. Put effort into creating...
Overcoming team dysfunctions
15 Oct 2019
In managing day to day team activity, it can get difficult to keep tabs on how well a team is actually doing. Completed tasks count on the team's Kanban board may not tell the full story, seeing as quantity alone says nothing about quality. Analyzing how many have return from Done to Doing -...
Introducing User Groups for better access management
03 Oct 2019
We're happy to announce a new, better way to assign Kanban board access to team members. Rather than having to share each board separately with chosen users, you can now tag people as members of specific user groups. Then, simply decide which boards are shared with what group and in what...
Not sure what got accomplished in your hard day's work?
24 Sep 2019
If your workdays feel very busy, and yet at the end of a day you're not really able to pin-point what's been completed, you may experience confusion and dissatisfaction. After all, you have been busy with something, so why does it feel as though hardly anything got done? There may be several...
Why do some people cringe, when they hear of Agile?
11 Sep 2019
The meaning of the term "Agile" has been shifting, as it got more popular over the last decade. It used to relate specifically to particular methods of project management. These days, we find it used in all aspects of business, and all areas of human collaboration. No wonder, that it's quite...
Tracking One's Productivity with Kanban
07 Aug 2019
The Kanban method offers an easy way to keep a score of things waiting to be done, being done and of those completed. There is no doubt, that not having to constantly churn your to-do list in your heads is already of benefit to both your productivity and overall well-being. But what other...
Pinboard - quick access to files on your board
30 May 2019
Are you finding yourself frequently needing to open specific files or websites related to daily work? It is now possible to pin those directly onto your Kanban Board. This way, you and your team can locate and access important documents in no time. Enable Pinboard in your Kanban board...
Pick a beautiful background for your board
16 Apr 2019
In order to make applying background images even easier, we've built a direct integration between Custom Theme Power-Up and Unsplash. You can browse a ton of beautiful images right from your board. The only question left is which image best matches your workflow? To apply a background...
Get started with Kanban Tool
Sign Up