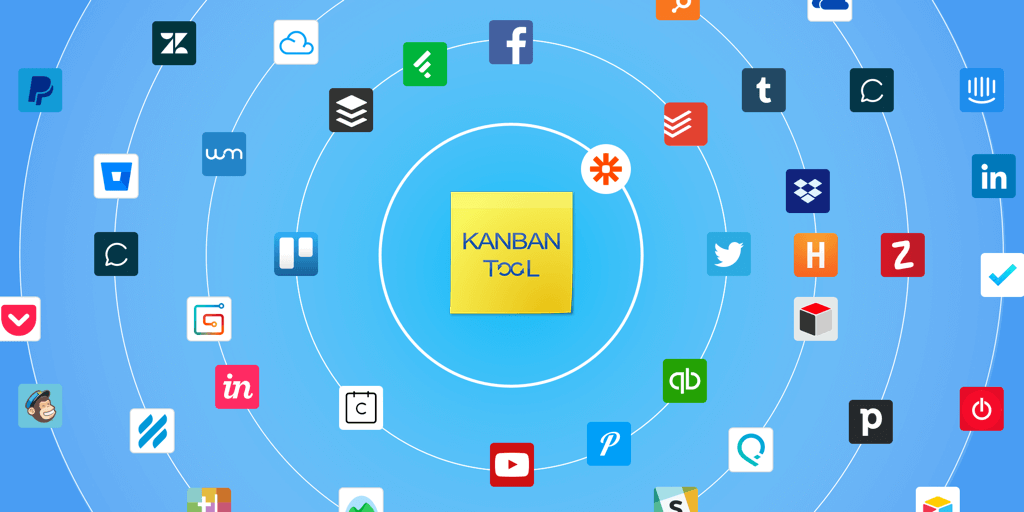 We know that getting your work done requires many different web tools. In fact, the average business uses between 10 and 16 apps. You have your email app, CRM, note-taking tool, cloud storage tool, team communication app, along with project management tools and various to-do lists. Sometimes, it can be a struggle to get them all working in tandem. Now that Kanban Tool has 1,000 integrations, you can choose your favorite tools and easily integrate them with Kanban Tool.
Kanban Tool now connects to 1,000 other web tools, thanks to our Zapier integration. With workflow automation tool Zapier, you can set up your own codeless integrations called "Zaps". Zaps will automatically send information from one tool to another, so you'll spend less time manually transferring data between your business tools and can dedicate more focus to creative, big picture tasks.
Boost Your Productivity with Popular Kanban Tool Integrations
No matter what other apps you use, chances are Kanban Tool integrates with them via Zapier. Here are some of the most popular integrations that Kanban Tool users already use to be more productive.
The New Year is the perfect time to evaluate your processes and find ways to boost productivity. Try out some of the Zaps above or view more ways to integrate Kanban Tool.
New Mobile App for iOS is Out!
04 Dec 2017
We're delighted to announce that our newest iOS application has been released. Simply update the app on your iPhone if you've used it before, or d...
Android App for Kanban Tool On-Site is Now Available
28 Nov 2017
We are happy to announce that our recently updated Android application includes full support of Kanban Tool On-Site installations. To sign i...
Get an Update of Kanban Tool Android App
21 Nov 2017
We are delighted to announce the release of a much anticipated update of Kanban Tool Android application. Make sure to update your application ve...
Working with Kanban - Frequently Asked Questions
01 Nov 2017
Project management as a concept can be extended to anything from running an enterprise to following a personal to-do-list. The idea remains th...
Lightweight Agile for Cautious Teams
24 Oct 2017
Your company finally got the memo to consider the Agile approach to workflow management, but you're not ready to jump all in and reinvent how y...
Trends in Project Management
10 Oct 2017
It's a great time for project management. We're seeing the more traditional methods being slowly phased out and newer approaches recognized as more...
Kanban or Scrum - Which for Whom and Why?
03 Oct 2017
If you're at a point of noticing that your team is not delivering the results that you've been aiming for and are about to turn things on their hea...
Good and Bad Agile Project Management
19 Sep 2017
Just like any work management strategy or approach, Agile can be implemented either well or poorly. Here are the most common reasons for both. ...
Working Remotely is Hard, but So Worth it!
06 Sep 2017
What is your first thought when asked about remote collaboration? Anticipation of endless free time? Fear of not managing your workload? Dread...
Get started with Kanban Tool
Sign Up