Remote Team Management Software
Your Team, Tasks and Projects in One Place.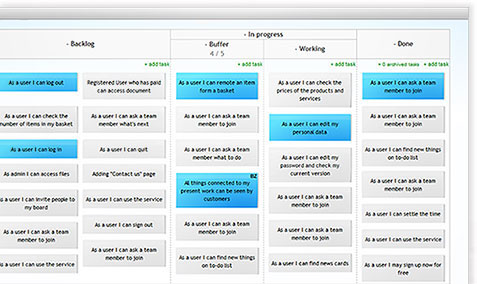 Start to manage remote team effectively
See how you can increase team productivity with online boards!
- Collaborate with your team in real time.
- Easily manage workflow using simple visual tools.
- Share information, documents and comments within team.
- See the results and look for ways to improve using analytics.

Join
thousands

of Kanban Tool's happy customers:

"Kanban Tool has worked wonders for our remote team... overall productivity increased over 50%!"

- Roger
More visibility
Kanban Tool is a web-based remote team management software. It helps you gain the maximum work visibility by managing tasks and projects with online Kanban boards. With Kanban Tool your remote team knows exactly what they have to do and when it needs to be done. Highlight important tasks using card color, size, priority. Assign task to a team member, create to-do-list or add attachment to increase the speed of getting things done.
Better collaboration
Let your team to work in a more collaborative way, in real-time! Organize tasks, monitor project progress and keep everyone informed with Kanban Tool. Significantly increase the collaboration and productivity of your remote team by sharing boards, tasks, documents and comments within your team. Use RSS feeds and email notifications for task assignments and comments to to be always up-to-date. Teamwork has never been easier!
Control and improvement
Kanban Tool gives you a full control over the work of your remote team. Identify and eliminate problems immediately once they occur, using cycle time reports and cumulative flow diagram. Implement improvements to avoid generating waste. Keep all important information in one place by exporting data to CSV or Excel file. Start a 14 day completely free trial now and manage your remote team in the most efficient and easy way!