The missing menu
12 Mar 2012
Over the weekend we have released an update which adds popup menu to individual cells on Kanban board. This allows you to easily move, archive and sort tasks on boards with multiple swimlanes. To open it, just right-click or ctrl-click on some empty space around your tasks: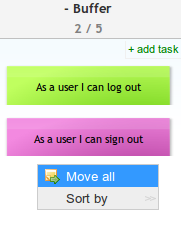 Sign up for a 14-day free trial
to test all the features.
Sign up now and see how we can help
your organization deliver exceptional results.