Interactive to-do-list and "project manager" privileges
24 Apr 2013
Over the weekend we have successfully released new interactive to-do-lists. Now you can view and check off listed items without opening the card itself by simply moving the mouse over the to-do-list progress bar. We hope it will enhance your experience with using KanbanTool to-do-lists.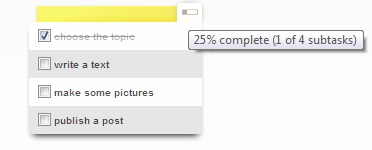 We have added "Project manager" as a new type of account access privileges. Project managers can create new boards, share them and invite others. They can only manage the boards they have created and cannot see or access other boards unless they have been shared with them. They can invite new users, but cannot access the 'People' tab to modify their details.
Please tell us what you think about the new features and feel free to send us your comments and suggestions. Your feedback is always appreciated.
Sign up for a 14-day free trial
to test all the features.
Sign up now and see how we can help
your organization deliver exceptional results.