The devil's in the details - this week we're excited to introduce a number of features, each of which will make a small, yet significant difference to how you use the boards. Check these out:
Emails on Checklist Assignment
To make cooperation on tasks more efficient, checklist item assignments are now generating email notifications, just as task assignments do. Information on what's needed to be done will now be spreading even faster!
Creating Tasks from Excel
If you're a frequent Microsoft Excel user, but you'd still like to be able to visualize your work on a Kanban board, we have prepared a fantastic Excel macro, which will help you create Kanban Tool tasks directly from Excel. Find out more here.
Easier Font Size Change
Want to make the card fonts larger? For a long time it has been possible to enlarge fonts with Developer Tools, but it has now become accessible directly from the Custom Theme Power-up. Now all your board design features are in one place. Visit this page to learn more about changing your board looks.
A Time Log on Cards
Finally - you can now check how much time each of the team members have spent on a particular task. Open the Time log to see user-specific time entries for the people involved in this task. Enjoy!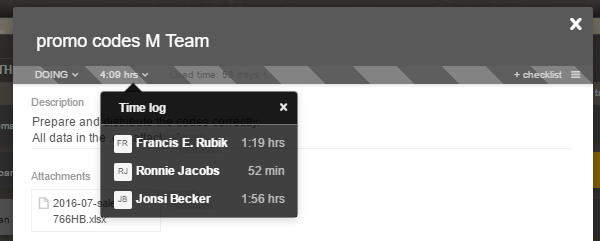 Interactive Checklists
19 Sep 2016
Fancy viewing and ticking items off a checklist without opening the cards? We've just released a fantastic Power-up, that makes this possible. Enab...
Agile for Academic Work
06 Sep 2016
Is forever chasing due dates, waiting for required study materials and asking colleagues when assignments are due part of your routine at universit...
How to Improve One's Memory - don't Forget to Remember!
24 Aug 2016
How many times have you surprised yourself finding out too late, that there was something you were meant to do - and didn't - that you earlier thou...
Does Agile Work for Short-Term Projects Only?
17 Aug 2016
We know Agile as an iterative approach to managing projects and change, based on building plans for short intervals only and hitting the reset ...
Project Management Challenges
10 Aug 2016
Is choosing the right management method the biggest challenge of project management? Or is it spotting unreliable or otherwise failing team member...
Turn your IDEAs into ITEMs with Kanban Tool
02 Aug 2016
Attachments in Email Task Creation Are Now Available
25 Jul 2016
Great news for all Kanban Tool users! It is now possible to attach files to the tasks that you create via email - all files will land nicely in th...
Why Do So Many Programmers Hate Agile?
20 Jul 2016
When talking to programmers, it's not uncommon to notice a definite displeasure or see their eyes roll at the very mention of Agile. Have you ever ...
Agile Implementation Problems?
12 Jul 2016
So, your Agile coach told you, that once you implement Agile, the team productivity will go through the roof, but you're struggling to see the resu...
Get started with Kanban Tool
Sign Up