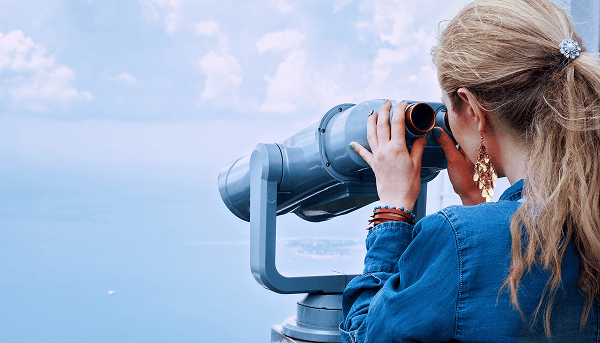 We are happy to introduce an all-powerful, comprehensive and quick global search functionality.
As hinted by global - the function allows to search all of the boards and tasks at once. It is accessible from the same spot on every board. So no longer will you need to crack your head in search of "where a particular task is - finding it is as easy as writing its name, or part of it.
Global search is accessible via the magnifying glass icon:
It can also be activated with the standard "/" key stroke.
Note, that the type-in box, that was previously a search / filter entry box is now only used for filtering.
The functionality allows for searching by task names or task's External ID#.
Also, a huge number of additional queries can be applied to customize the search down to a single day, a tag, an assignee or a combination of a number of factors, thereby giving you the ability to pin-point any task from among potentially tens of boards and thousands of tasks.
What's great, is that once you have found a list of tasks that can be the answer to your query, you can open the task you wanted right on the board you were looking from – in other words opening a task from search results does not redirect you to the board that task originated from, keeping things simple and organized.
Full details of the feature and a complete list of supported queries has been prepared for you here.
To complement the new search funtion, the old filtering box was also equipped in support of the Global Search queries. On top of this, you can now save your filters to always start with a board view prepared as you have filtered it, and the view will remain as such until you intentionally remove it.
Feel free to test the new functionality!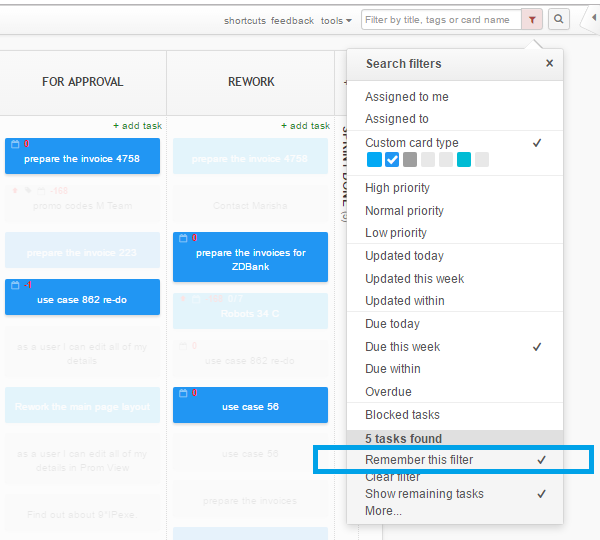 When "Must Go Agile" Is Just a Face of Deeper Issues?
21 Feb 2017
Agile can be controversial - it has its clear enthusiasts and vivid mockers. What does not help the situation are groups of people who use a call t...
Checklist Templates Are Now Available!
06 Feb 2017
We've just added a great new Power-Up, with which you will be able to have a number of pre-set checklists. Thanks to this, you will be able to make...
Agile for a Small Business
17 Jan 2017
You'd think that small businesses are Agile by default, simply because of scale of their operation. But it's not necessarily the case, and more oft...
Bringing Agile into Non-Tech Environments
04 Jan 2017
Agile originated in a technical work environment and its likely still its main performance stage. However, that doesn't mean Agile cannot bring...
Happy Holidays!
22 Dec 2016
Kanban Tool Team are wishing you Joyful & Happy Holidays and a prosperous New Year!
Solving the Working from Home Conundrum
13 Dec 2016
If, despite best efforts, you are still getting stuck on social media while trying to do actual work - consider these, less obvious methods of ...
Agile Marketing Anyone?
23 Nov 2016
It's not surprising that Agile development has spread to marketing. In a fast-paced environment, software development and marketing, along with...
Is Agile Good for People?
16 Nov 2016
We know now for sure that Agile is a tested, proven and recommended methodology of organizing work and introducing change to an office environment....
You Don't Need Kanban.. or Do You?
18 Oct 2016
It seems as though each and every company out there is trying to catching the Agile train and - even if they don't in fact work alongside the guide...
Get started with Kanban Tool
Sign Up