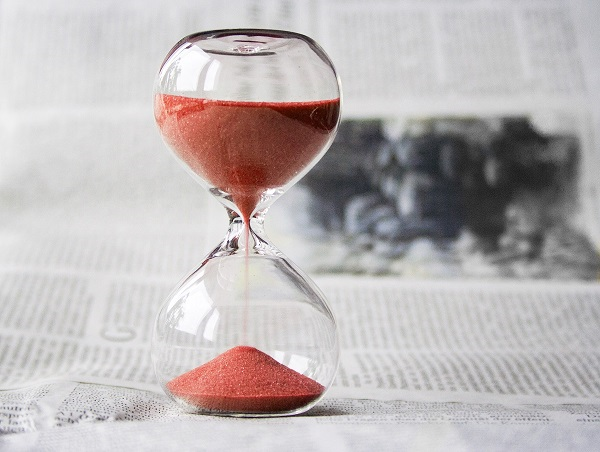 In the spirit of strengthening your procrastination tendencies, an option to have a task postponed has just been added to Kanban Tool! :)
Seriously, though - this is a fabulous way to de-clutter your board from tasks that you cannot get to work until a specific event takes place, or until you have the time for it.
The supported options are to postpone until the evening, next day, next week, a specific time and date or to an undefied point in the future (the dreamy sounding "someday" option). When the set time comes, your task will come right back into the column, that it was set to delay from.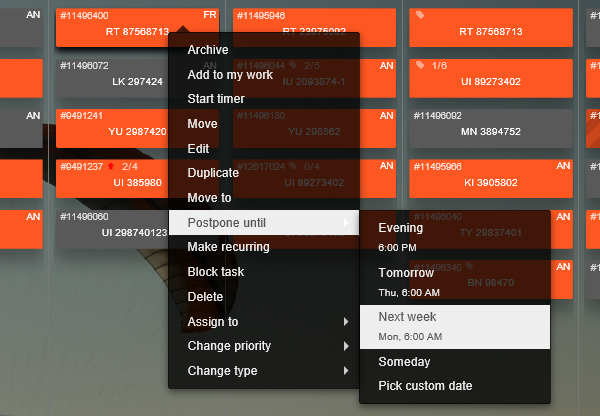 You can also review all your work suspended in this way from the Postponed Tasks widget, displayed in the side panel, along with any other widgets you may be using (Calendar, Recurring Tasks, Team Activity, My Work).
You are welcome to edit the schedule for the postponed items from here - or, if need be, bring a deferred task back to the board before the set time comes. Editing the task contents is also possible while suspended - just click the task from the Postponed Tasks widget and make your changes.
Enjoy being even better organized with this handy feature!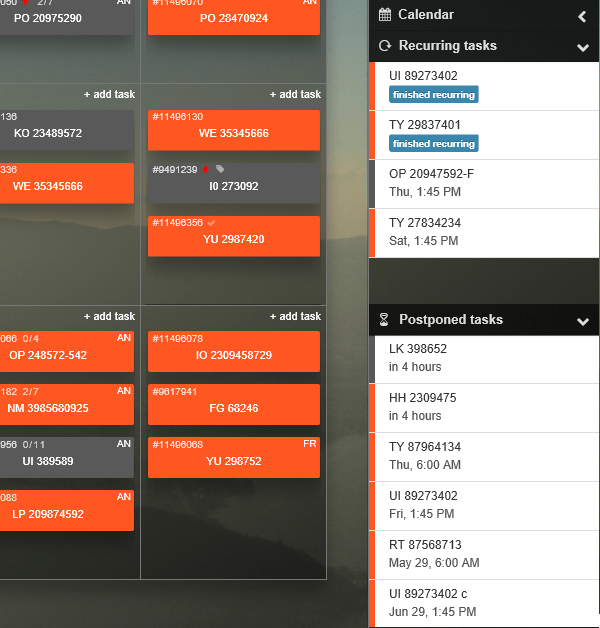 Unforeseen Benefits of Agile
11 May 2017
After a decade of Agile working - it is pretty clear what are the predominant benefits of applying the approach: clearer product development pr...
Change Management: Focus on the People
11 Apr 2017
Attempting to introduce new methods, policies or practices into an organization meets one, clear obstacle: resistance to change. Behaviour as natur...
Global Search has Arrived!
09 Mar 2017
We are happy to introduce an all-powerful, comprehensive and quick global search functionality. As hinted by global - the function allows to s...
When "Must Go Agile" Is Just a Face of Deeper Issues?
21 Feb 2017
Agile can be controversial - it has its clear enthusiasts and vivid mockers. What does not help the situation are groups of people who use a call t...
Checklist Templates Are Now Available!
06 Feb 2017
We've just added a great new Power-Up, with which you will be able to have a number of pre-set checklists. Thanks to this, you will be able to make...
Agile for a Small Business
17 Jan 2017
You'd think that small businesses are Agile by default, simply because of scale of their operation. But it's not necessarily the case, and more oft...
Bringing Agile into Non-Tech Environments
04 Jan 2017
Agile originated in a technical work environment and its likely still its main performance stage. However, that doesn't mean Agile cannot bring...
Happy Holidays!
22 Dec 2016
Kanban Tool Team are wishing you Joyful & Happy Holidays and a prosperous New Year!
Solving the Working from Home Conundrum
13 Dec 2016
If, despite best efforts, you are still getting stuck on social media while trying to do actual work - consider these, less obvious methods of ...
Get started with Kanban Tool
Sign Up