Kanban Tool has always been focused on effective workflow visualization. Today, we bring you a Power-Up that takes visualization of work items to the next level!
Switch on the Card Covers Power-Up to be able to either pin any attachment to your card front, or to turn an attached file into your card cover. This way, graphic files and pdf attachments can be previewed without opening the tasks. You are welcome to go ahead and create a gallery of multiple images directly on a card.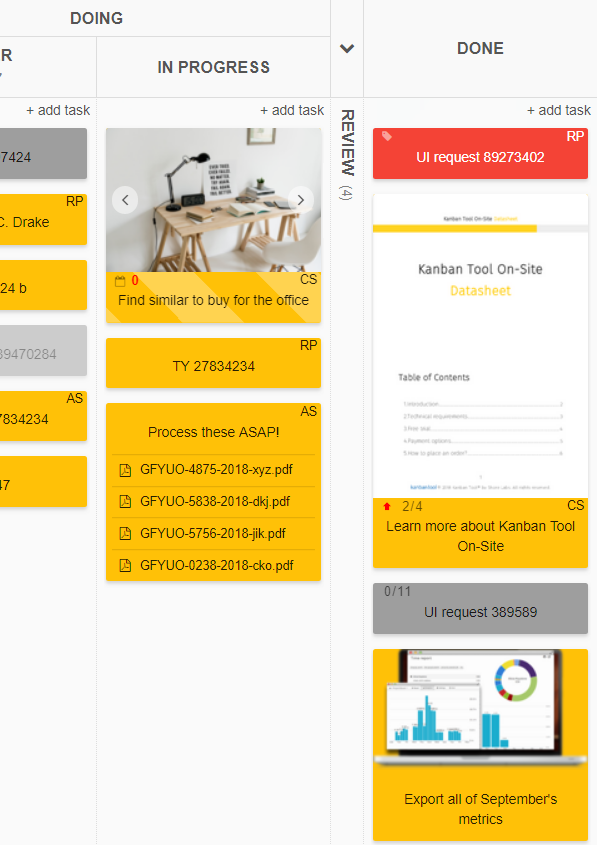 How to make the best out of your online Kanban board?
09 Oct 2018
Aside from being accessible from any place and at any time, one of the best things about using an online Kanban board is the benefit of it being ...
How not to Fail an Agile Transformation?
26 Sep 2018
It's all too easy for teams to drop their Agile-related efforts after a little while since their initial training. Don't we all have a natural ...
Automation Rules
28 Aug 2018
Would you like to automatically assign cards to relevant team members, set due dates, and get notified about important events? We are happy to a...
On Minimalism, Kanban & Productivity
07 Aug 2018
We used to all want to get access to as wide a range of information, things and experiences as possible. For a while now, this has been changin...
Different Card Templates for Different Card Colors
30 Jul 2018
Happy to announce that it's now possible to assign specific card templates to different card types (colors). In this way, you can truly differentia...
Kanban Tool becomes an open platform
17 Jul 2018
We love working on new Kanban Tool features and then using them ourselves. With this update, we wanted to give you the capability to do the same ...
A Few Motivation Hacks We All Need
10 Jul 2018
Regardless of whether you love your job or if you just have to be doing it, there are days when you simply can't get into it, aren't there? Whe...
Updates to Terms of Service and Privacy Policy
24 May 2018
The General Data Protection Regulation (GDPR) imposes additional requirements for companies that collect or store personal data of European Union r...
Too Much on Your Plate? Try Kanban!
21 May 2018
If one look at your inbox and desk makes you feel overwhelmed - keep reading. Many people start their workday by opening email or replying to miss...
Get started with Kanban Tool
Sign Up